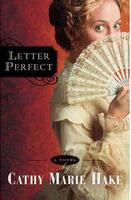 Title: Letter Perfect
Author: Cathy Marie Hake
Publisher: Bethany House
Genre: Fiction - Historical Romance
ISBN: 0764202588

Start with a klutzy and reluctant deb named Ruth. Add an ill mother, a mysterious letter, a charming rancher with an impressionable daughter and handsome son, and you have Cathy Marie Hake's historic romance, Letter Perfect.

This light read has us accompanying heroine Ruth Caldwell from a finishing school in Missouri (Jefferson City, 1859), to her home in St. Louis, and then to the Broken P Ranch in Folsom, California, which is the book's main setting. There she becomes a companion to ranch owner McCain's pampered daughter Laney. She is also a thorn in the side of his dependable son Josh when her presence as potential heiress calls into dispute the McCains' ownership of the Broken P. True to the genre, a romance ensues. This is beefed up with elements of mystery and characters who surprise us with their villainy and heroism.

Free-spirited Ruth provides the perfect vehicle for Hake to address the role of women, one of the book's main themes. Ruth challenges the 'woman as ornament' perception of mid-19th century America by keeping on top of current affairs, pursuing an interest in physics, teaching Laney to read, insisting she pull her own weight by working around the ranch, and taking charge of her finances.

Other themes addressed are family, loyalty, friendship, tolerance of others' foibles and dealing with death.

Of course a Christian world view is foundational to the story. Hake does a good job of showing through her characters how God's presence is experienced and His direction followed day to day.

The narrative is mostly efficient and fast-paced with Ruth's bumbling ways giving just the right amount of humor as she trips and smudges, bumps and spills her way through the story. However, several elements of Hake's story-telling style irritated me.

I found her frequent use of dialogue tags (versus the practically invisible 'he/she said') not only unnecessary but sometimes almost laughable: "Josh nickered softly..."(Chap. 5), "'We need more everyday dresses,' Laney chirped," and, "'What're you doing here?' he barked..." (Chap. 6).

Another style thing that jarred is Hake's manner of reporting the point-of-view characters' thoughts (signaled by italic font) often in longish paragraphs of complete sentences. These interior almost-monologue-length bits didn't seem natural as thoughts and resulted in the characters coming across as stiff and self-conscious.

Those stylistic quibbles aside, Letter Perfect has well-developed main characters, a cast of believable extras, an engaging plot, flashes of humor, a positive message and a happy ending. Look for it to be released in August, just in time to take on your last holiday of the summer.

Thank you to Bethany House for providing a copy of this book for review.