Christmas is down. The house has sobered up. We're in the sunlight-starved month of January. I like this part of the year's cycle, made even richer by finding, and naming everyday gifts:

242. A cozy house on rain-dark mornings.


Flooded path in Michaud Park
243.
Rain and more rain...gurgling down gutters and manholes, swishing in spray from passing vehicles, dripping endlessly down the greasy shingles of my writing window, covering the path, and transforming last week's hockey rink into a duck pond.
Last week's hockey rink
...
244.
A floor fan that blows warm air over my feet when I'm at the kitchen sink.
245.
Dense muffins with surprising bursts of cranberry.
246.
A "yes" on a book review query.
247.
Timing I wouldn't have chosen, so I rest on "The steps of a good (wo)man are ordered by the Lord and He delights in her way" Psalm 31:23.
248.
The reminder to check on a friend.
249.
The ease of visiting with friends from two cities back in our history.
250.
Tidying my office — I wonder what treasures I'll uncover this week!
251
. The paper shredder.
252.
Slim file folders.
253.
Waking with a song playing in my head.
255.
Frost crystals - nature's stamped magic.
256.
The smell of baking bread.
257.
A Sunday afternoon nap.
**************
If you'd like to join me and many others collecting One Thousand Gifts, please do. Some members of this gratefulness community post their gifts on blogs, while others list them in private journals. Instructions on how to join are
here
.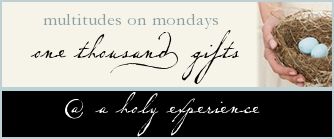 Ann's book
One Thousand Gifts: A Dare to Live Fully Right Where You Are
is releasing in hardback soon. But you can get the
Kindle version
now!