We are well. The weather is sunny. Spring is creeping closer. It's easy to find gifts...



Serpentine Fen - Surrey, BC - Mount Baker in the background
316.
A Valentine dinner with my sweetheart at a
new-to-us Greek restaurant
.
317.
Splitting dessert (a banana caramel cream cheese xango — basically cream cheese with banana filling in a toasted pastry tortilla with caramel drizzled on top —sinfully good!)
318.
Morning walks — they get the day off to such a great start.
319.
A redwing blackbird's song (the sound of spring).
320.
Sighting the cormorant again on our everyday walk beside the Nicomekl.
321.
Unexpected emails from old friends.
322.
Red cabbage.
323.
Days getting noticeably longer.
324.
J. I. Packer's book
Knowing God
(an oldie by a goodie).
325.
More big juicy oranges.
326.
Curling - a whole week of the
Scotties
coming up!
327.
Missions conference at church. Yesterday was the flag parade. Love the colour, the motion, the anticipation: "
I looked and behold, a great multitude which no one could number, of all nations, tribes, peoples and tongues, standing before the throne and before the Lamb..."
Revelation 7:9.
328.
A walk at one of our favourite spots — the
Serpentine Fen
.
Looking down from one of the observation towers
.
************
If you'd like to join me and many others collecting One Thousand Gifts, please do. Some members of this gratefulness community post their gifts on blogs, while others list them in private journals. Instructions on how to join are
here
.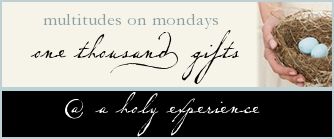 **********