Woven straw ornaments on the North Shore Polish Association tree
As Christmas nears, my calendar can breathe again. It is most crowded at the beginning of the month — not so much any more. I love it that way.
Now for the gifts collected during the week just past:
199.
Lists, which make Christmas shopping ... not so hard — actually fun.
200.
A little timing miracle. I needed to be somewhere but the clerk was taking extra long to explain things. so I was late. But it didn't matter (not that it ever does, I'm just so obsessive about being on time) because everyone else was delayed too.
201.
Christmas lunch with girlfriends.
202.
Reconnecting with friends who moved back into town.
203.
Christmas cards and letters; we're all thinking of each other!
204.
A magic evening with Michael W. Smith (and thousands of others). Love his humble attitude: "It's all a gift." Yes, but what a gift!
205.
Gift bags.
206.
My local dollar store (how do they afford to sell those sturdy giant bags for $1.00?!)
207.
Spending time with friends at the
Dundarave Village Festival of Lights
.
208.
The sight of some old friends...well, they feel like old friends. We saw these Barrow's ducks from the West Vancouver seawall. We used to see a big variety of ducks and waterfowl on our Elgin Park, Serpentine River, and Mud Bay Park walks. Where we walk now we see mostly mallards.
209.
Tree whimsy.
210.
A creche on public display.
211.
Charles Price, whose
Living Truth
talk on "The Doctrine of Christmas" put the whole season in grand perspective.
Now I'm off to make some more lists, of odds-and-ends to round out the shopping, and food for the feast!
**************
If you'd like to join me and many others collecting One Thousand Gifts, please do. Some members of this gratefulness community post their gifts on blogs, while others list them in private journals. Instructions on how to join are
here
.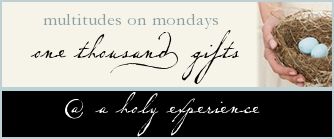 Ann's book
One Thousand Gifts: A Dare to Live Fully Right Where You Are
is releasing in January. But you can get the
Kindle version
-- even give it
along with a gift card from Ann
-- now!