The front cover of the
memorial service bulletin:
My brother, hiking in the river hills.

It's hard to believe it was only one week ago today that I came home from working in Alpha to the news. A sister-in-law had phoned. My brother had died a couple of hours earlier.
It wasn't as if we weren't prepared. After all, the doctor had told us this summer it could be only a couple of weeks then. That my bro soldiered on for six more months astounded everyone on his medical team. Only days ago in her update, Mara, my brother's wife, made it clear that the end was near. But last Tuesday night the news was still a shock.
The next hours were a flurry of planning. We decided to fly (versus drive) to Saskatchewan for the Saturday morning funeral. We booked flights, rented a car remotely, then on Friday caught a 6:15 a.m. flight from Abbotsford.
The weekend was a marathon of special family moments. We shared a Chinese food dinner at Gilbert & Anne's on Friday night along with a birthday cake for my hubby. Then we motored to Borden and Brian & Darlene's cozy house where we spent all our nights.
Anne, at the Chinese food buffet (courtesy sister Doris)
Ernie with his ice-cream cake
Saturday was amazing as we mingled with family members, cousins and the friends of our youth in the foyer of the Dalmeny MB Church and later in the basement reception hall.
The memorial service for my brother was tough — and made tougher by the three segments of photos (all to the accompaniment of the roots and bluegrass music he loved and played so well) featuring the three eras of my his life.
The pastor's talk was stirring and challenging, anchored by two words: "appointed" and "choices." It's a sobering thing to view the whole of a person's life and to realize: this is it. They've done all they will do. The last chapter has been written. Their living here is complete. (His obituary is
here
.)
I came back when to the sanctuary when it was deserted and photographed the memorabilia of my brother's life that my nephews had lovingly assembled, washed (at least the farm tools) and hauled to the church. Goodbye my bro — a husband, father, uncle, friend, farmer, gardener, bus driver, musician, hockey player, bird watcher, naturalist, hiker, jack-of-all-trades, of whom it was said again and again how kind, and supportive and encouraging and thoughtful he was.
On Sunday after church whoever of the family hand't left for home gathered again in the church basement. Kudos to all who contributed, especially to Gil & Anne who so capably organized, supervised and so much more!
After a photo shoot we all drove out to the farm for more visiting, pizza and pop. I was told there was even some schmalzing in the snow!
Pizza and pop at the farm
Flowers - so pretty in the farmhouse. Now my bro is a 'Bird of Paradise'
Here I slipped away again to the room where my brother spent his last months, days, and hours (when he wasn't up and about, which was pretty well every day until almost the end). His hospital bed was set up against the wall where the futon now stands.
We got home yesterday at midnight. From my familiar writing desk here, the last few days seem like a dream. Though the week has been gift upon gift, I'll gather them into bundles that could be broken down into many...
284.
Ann Voskamp on Blog Talk Radio.
285.
A sense of God
directing my steps and moments
.
286.
A sweet last day on earth for my fro with all his family present.
287.
Memories of a life well lived.
288.
Travel mercies — safe flights, luggage that arrived, a rental car that never failed to start despite the −30C weather.
289.
The warmth and generosity of the people at the church where my brothers attend.
290.
Time with family rich in memories, catching up, laughter and tears.
291.
E-readers; it's so convenient to transport books on a trip.
292.
The internet, Facebook, email. With ease we can let everyone know - we're back home, all is well.
**************
If you'd like to join me and many others collecting One Thousand Gifts, please do. Some members of this gratefulness community post their gifts on blogs, while others list them in private journals. Instructions on how to join are
here
.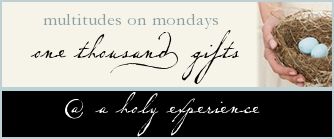 Ann's book
One Thousand Gifts: A Dare to Live Fully Right Where You Are
is out and selling like hotcakes. Get your copy!