I have gathered more spring in photos for my gift count this week:


403. Yellow daisies!
404. Magnolia ("Tulip trees")
405. Vinca - a ground cover, and so pretty.
406. Mahonia.
407.
A Sunday drive to the
Stewart Farmhouse
. This is a side building. I love the pretty spring garden beside it.
408. Ward's Marina
at low tide.
409.
And on to
Elgin Park
and the path along a part of the Nicomekl that we used to walk about once a week. I love this place!
410. The salmon berry blossoms are out.
411. As are the wild triliums!
412.
And the hot cross buns! Hubby brought some home just now - fresh and oh so spicy!
************
If you'd like to join me and many others collecting One Thousand Gifts, please do. Some members of this gratefulness community post their gifts on blogs, while others list them in private journals. Instructions on how to join are
here
.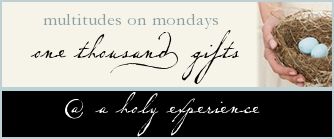 **********