Once again with feeling:
We are loving spring!
391.
The softening weather (although we are still having our share of nippy days).
392.
Bananas and yogurt, sweetened with jam.
393.
Spring in my own garden.
Gigantea Chionodoxa
(How do I know? Because I kept the packaging.)
394. Siberica Scilla
395. Baby hostas
396. And in my neighbour's pots
Ranunculus
397
. A long lunch with a friend.
398.
A book of poems to savour — from Australia
.
399.
Burt's Bees lip shimmer.
400.
April 10 - yesterday. My Mom's birthday. It's hard to believe in June she will be gone five years. She was a wonderful mother. I miss her.
401.
Canada's Jeff Stoughton winning the Men's World Curling title in Regina on Sunday. What a wonderful week of curling it was!
402.
Just cleared my bathroom sink with Drano. YAAAAY Drano!!
************
If you'd like to join me and many others collecting One Thousand Gifts, please do. Some members of this gratefulness community post their gifts on blogs, while others list them in private journals. Instructions on how to join are
here
.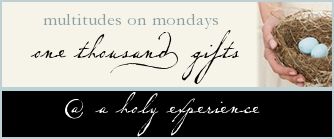 **********