"Drag your thoughts away from your troubles by the ears, by the heels, or by any other way you can manage it"
says a quote from Mark Twain on my calendar's spread for this week. I have a better idea. I'm going to drag my thoughts away from troubles by listing reasons for gratitude in the week that just was in my continuing trek toward 1000 gifts.
444. Dinner with friends from long ago.
445. A pretty potpourri arrangement in a restaurant washroom.
446. Routine doctor visits and fasting bloodwork done. It feels good to be able to cross those things off my list - #procrastination fail
447. Spring colours.
449. Iridescence.
450. Now that I'm finally devoting some time to the project I've been avoiding for too long, I am enjoying a sense of well-being.
451. Nature posing.
452. Hubby never forgets a special day. These roses are the most gorgeous shade of rose-red.
453. Mother's Day lunch with hubby and fav son! Felt the love.
454. Reviewing this verse:
"For we are God's own handiwork, His workmanship, recreated in Christ Jesus, born anew that we may do those good works which God predestined, planned beforehand for us, taking paths which He prepared ahead of time — living the good life which He pre-arranged and made ready for us to live" -

Ephesians 2:10 Amp
455. The view from my study — filling in with green.
456. Vancouver avenues lined with pink lace.
************
If you'd like to join me and many others collecting One Thousand Gifts, please do. Some members of this gratefulness community post their gifts on blogs, while others list them in private journals. Instructions on how to join are
here
.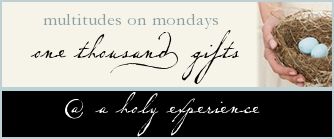 **********