It's really not hard to find and name gifts relating to the week that just was. Summer is on its way and my world is revelling in it!



474. Flowers of purple whimsy. Their petals look like happy little streamers.

475.
A doctor checkup where the lab results are going in the right direction (I'm not sick,; it's all scheduled diagnostics and maintenance).
476. Brilliant orange rhodos.

477.
Another
reminder of the brevity of life
. (The man that was killed in the accident is my hubby's cousin. We were planning to get reacquainted with him and his family at a big family reunion this summer...)
478.
A glimpse into that family member's salt-of-the-earth contribution to home, community and church (which I experienced second-hand from hubby's enthusiastic report. I minded the home front while he took a whirlwind trip to Saskatchewan to attend the funeral).These humble heroes are all around us too. The challenge is to notice them and appreciate their contributions before they are gone.
479. A little portrait of life — the young and the old.

480. While hubby was gone, I spent about two-thirds of a day cleaning the garage. That felt good!!
481. While digging through a plastic tote, I found my silver baby cup! It's now polished and sitting in a place of honour beside a special photo.

482. Horse chestnuts in bloom.

483. Does heather come in yellow? This cheerful plant looks like yellow heather!

484.
My hanging baskets are up (I love the Costco garden centre!).
485. The most romantic of all vines — wisteria — is in bloom.

486. A flowering hippo. Isn't he cute?

************
If you'd like to join me and many others collecting One Thousand Gifts, please do. Some members of this gratefulness community post their gifts on blogs, while others list them in private journals. Instructions on how to join are
here
.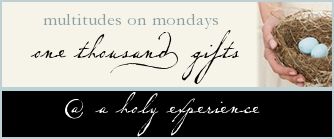 **********