This week has felt like a roller coaster ride. First it was the Canucks losing, and losing, but finally winning in game seven of their series against Chicago. Then there were the polls. Let's just say that unless you're an NDP supporter, the polls predicting the upcoming federal election results have been less than reassuring. But they were followed by the beautiful Royal Wedding. That was followed by more polls. Our trip to Kamloops on the weekend to visit kids and grandkids was another high. We are now facing tonight and the election results. Will that be up or down?


Fortunately despite the ups and downs of sports, politics, and the news, life below the public surface goes on in all its richness Here is this week's collection of gifts
431. A spring trio
432.
A Royal Wedding,
complete with traditional Christian scriptures and vows
on view for the whole world to see.
433. Artisan soaps
434. Walks along the North Thompson.
435. Family
436. My daughter the mom.
437. A surprise horse show on our walk Sunday.
438. Another birthday
439. Little boys wrestling (What is it with little boys and wrestling? When my son was little, he and his best buddy couldn't be together for five minutes before they were wrestling!)
440. Little boys with rocks, water and a water-loving dog.
441.
A God who reigns, no matter who wins any old election:
"For God is king of all the earth....
God reigns over the nations (Canada too!)
God sits on His holy throne" - Psalm 47:78
442.
Tomorrow's headlines across Canada
(for while I've written this, the election results have come in.)
443. A tulip garden.
************
If you'd like to join me and many others collecting One Thousand Gifts, please do. Some members of this gratefulness community post their gifts on blogs, while others list them in private journals. Instructions on how to join are
here
.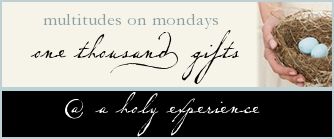 **********