"Everything has its astonishing, wondrous aspect, if you bring a mind to it that's really your own." - Robertson Davies
Last week I was moaning about the cool weather. No more.
550.
We have sun, warmth and Peonies, Sweet William, and Roses (all in my very own garden)!
551.
The smell of fresh-baked bread.
552.
An evening out with son, who takes time to smell the blossoms (whatever these lovelies are called).
553. Pretty Vancouver streetscapes.
554.
Bible promises for some personal discouragements.
555.
A summer off from a volunteer job I do for church.
556. Hours spent Saturday on a photo album for an upcoming reunion. Here is my high school grad photo. Can you find me in it?
557.
A deeply moving Canada Day service at church yesterday. The focus on aboriginal issues included Rev. Bruce Brown (pastor of the
Vancouver Native Pentecostal Church
and a member of the Aboriginal Ministries Council of the EFC) telling his own disturbing story and reading
Prime Minister Harper's apology from the Canadian government to the aboriginal people
(delivered June 11, 2008) specifically asking forgiveness for their mistreatment in residential schools.
558. Poetry in all kinds of places, even the bird-beach.
559. Sunday lunch at Pelagos (Crescent Beach, South Surrey) - one of our favourite places to eat fabulous Greek food!
560.
Porridge flowers — at least that's what we used to call them (they're actually yarrow).
561. Loveliness in mauve...
562. ...mottled gray...
563. ... and red to blue.


************
If you'd like to join me and many others collecting One Thousand Gifts, please do. Some members of this gratefulness community post their gifts on blogs, while others list them in private journals. Instructions on how to join are
here
.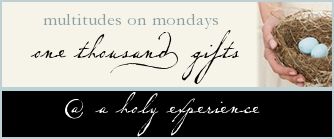 **********