"You may be disappointed if you fail, but you are doomed if you don't try." - Beverly Sills
I think we are experiencing the longest spring ever! The peonies that were tight little balls over a week ago are still clenched and waiting for the sun. We're all waiting for the sun which, of course, makes it much easier to tidy up writing loose ends in preparation for summer...
535.
In that vein, I finished a big project, first begun almost two years ago and sent it on its first outing. It has anchored me in duty for so long I now feel like my balloon has finally filled with helium and I'm taking off!
536.
A
little poem I wrote
got featured in
TS Poetry Press'
s daily newsletter. So honoured.
537. Drifts of wildflowers.
538.
A
Word Guild Writing award
for a
book review
I wrote. Most very grateful and honoured. And a big congratulations to all other winners!
539.
Two dozen roses to celebrate the week of our anniversary.
540.
A fun book launch.
The Violet Flash
by Mike Mason is second in the series following
The Blue Umbrella
. Here is Mrs. Mike in her little book shop.
541.
I met
Luci Shaw
!! Here she is talking with Mike Mason and
Ron Reed
(they are all in the same writer's group — a modern version of the Inklings I'm sure!).
542. Here is Mike under his magical blue umbrella.
543. Hubby and me, 30 years ago yesterday.
544.
To celebrate our anniversary yesterday we went for a walk along the White Rock promenade and then for a Greek lunch. As you can see, the UV index was very tolerable.
545. Enjoyed a little drama between some crows hassling a bald eagle.
546. I love all the flower boxes along the walk. Every restaurant has different flowers presented in different ways. I was so charmed by these delicate pansies.
547. And how about these black and yellow petunias!
548.
Have been reading heavy-ish non-fiction lately, so yesterday dipped into something lighter. I am enjoying Angela Hunt's
The Fine Art of Insincerity
(a free gift from her sister's contest - thanks so much, Angela!).
549.
For my husband and father of our kids - a true man of God. Hubby - you're the best!!
************
If you'd like to join me and many others collecting One Thousand Gifts, please do. Some members of this gratefulness community post their gifts on blogs, while others list them in private journals. Instructions on how to join are
here
.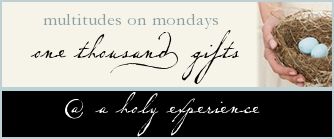 **********