"You have to sniff out joy. Keep your nose to the joy trail"
- Buffy Sainte-Marie
It's been a summer week of getting a few things done, and waiting for the sun...
579.
Historic sight on the river — a canoe full of
coureurs de bois
? It was definitely French we heard, drifting across the water.
580. A secret garden (not mine; I wish it were).
581.
Quiet days for getting stuff done.
582.
Lots of rain. No need to water the garden.
583. These are out. Does anyone know what they're called? They bloom in abundance along the river flood plain and smell of fresh laundry.
584.
Platz - made for lunch with friends on Saturday (
the recipe is here
in case you're interested in making this dessert that uses almost any fruit you have on hand). For this one I sprinkled a layer of frozen cranberries over thawed peaches and nectarines to give the filling a wonderfully tangy edge. It's so good with ice-cream.
585. Coffee with friends in the charming atrium of a square of shops in Fort Langley. Saturday was a rainy day so we had the place to ourselves.
586. Frogs. These cuties seem to be loving the weather.
587. A birdhouse that gives new meaning to the verse:
"Blessed are those who dwell in Your house;
They will still be praising You" - Psalm 84:4.
588. Vivid lilies seen at Driediger Farrms, to which we found our way quite by accident on our rainy day drive. Besides these photos, we went home with flats of fresh strawberries and raspberries!
589.
Inscribe Christian Writers' Fellowship. It's a Canadian writing group I'm so pleased to be a part of. I blogged about them today at
Line upon line
. If you're a Canadian Christian writer and not a member, come on over to see what you're missing.
************
If you'd like to join me and many others collecting One Thousand Gifts, please do. Some members of this gratefulness community post their gifts on blogs, while others list them in private journals. Instructions on how to join are
here
.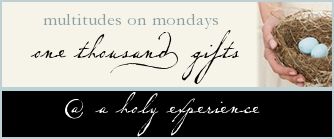 **********