"Hold out your hands and feel the luxury of sunshine." - Helen Keller
Oddly, sunshine does feel like a luxury this summer here on the 'wet coast.' A few days ago the weatherman reported that the number of hours we had had temperatures above 25 C. so far this summer was two (that's
hours
, not days)! After today that's no longer the case, though. This day (I'm writing on Sunday) has been untypically hot and sunny (32!) — and I am digging the luxury of it for sure. That's my gift
#590
to start this week's list. And I continue...
591. Pink - hot enough to hurt the eyes.
592. Red poppies blooming in the city boulevard.
593. Yellow sunshine for our cloudy summer.
594. Playful critters.
595.
A birthday lunch with friends I haven't seen since April.
596. Burns Bog fungi...
597. ...and lushness!
598. Look at the size of these skunk cabbage leaves.
599.
Pasta salad, savoury bread, and rhubread pudding, served with love and wonderful conversation. Thank you Mel & Jill!
600. Our new blanket. We've needed a new light summer quilt for several summers since the one we got from my aunties for our wedding wore out. We picked one up at Sears the other day and though I didn't consciously choose it for the design (of course I liked it), looking around our bedroom the other day, I realized what a perfect match it was.
601. The other day on our walk through the park, we came across these two grannies, sitting on their walkers, sketching the foliage. I love to see people pursue their passion!
602. A bald eagle sighting (I think these are juveniles).
603.
Bargain Kindle downloads like
this
and
this
.
604. Spirea flowers that look soft as plush.
605.
Interesting discussion of Luci Shaw's
Breath for the Bones
at High Calling Culture. My little blurb about Chapters 3-4 is
here
.
************
If you'd like to join me and many others collecting One Thousand Gifts, please do. Some members of this gratefulness community post their gifts on blogs, while others list them in private journals. Instructions on how to join are
here
.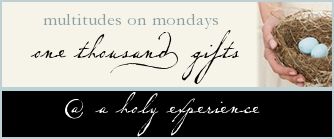 **********