"Start by doing what's necessary, then what's possible and suddenly you are doing the impossible."
Saint Francies of Assisi
"I can do all things through Christ who strengthens me."
Philippians 4:13 NKJV
I am about to embark on one of those weeks when everything comes due all at once! Besides the usual Monday laundry routine and preparing pastor's sermon notes for our church's life groups, I now teach a class every Wednesday morning for which I must prepare. It's our class's week to bring goodies for coffee time this Wednesday. Also on Wednesday I'm hosting the Christian Carnival on my
Devotional blog
.
On Thursday morning the class I'm teaching is scheduled to work at the barn, shucking and sifting lavender for a fundraising project. It's also my turn to post on the
Inscribe blog
. Later that day, or Friday (not sure when yet) friends from out of province are coming to visit. On the weekend, the kids are coming. Monday is Thanksgiving, so there's a dinner to shop for and prepare!
All of the above is why I chose the motivational quote and Bible verse above—to give me some traction as I enter this crazy week. Hopefully seven days from today I'll be amazed at how all the necessary stuff got done, even though at the moment it seems a bit overwhelming!
Looking back on the week that was, again I have much for which to be grateful...
710.
Affirmation for
a writing project I submitted to a contest
.
711. Driving into the sunrise.
712.
Playlists and podcasts on my ipod. Listening to them made the driving hours go by ever so quickly.
713.
More time with family.
714. Trees in autumn bloom.
715. A Sunday walk along Bedford Channel (Fort Langley).
716.
The wardrobe switcheroo is done. I love getting reacquainted with my winter clothes. It's like getting back together with old friends.
************
If you'd like to join me and many others collecting One Thousand Gifts, please do. Some members of this gratefulness community post their gifts on blogs, while others list them in private journals. Instructions on how to join are
here
.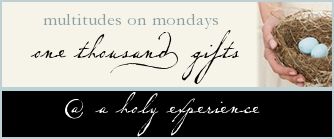 This post is also linked at today's "
In, On and Around Mondays
" post on
Seedlings in Stone
.