"Start by doing what's necessary, then what's possible and suddenly you are doing the impossible."
- St. Francis of Assisi
I prefer to live life with a certain leisureliness. But that hasn't been the way it has unfolded in the last few weeks. When my calendar is too full, I easily get distracted from gratitude—absorbed in just staying on the treadmill. I am trying to learn to be more elastic. To take deep breaths and inhale the joy, even if the interlude is brief and I need to get on to the next thing.
I missed posting my gratitude list last week. The time got away on me. But I'm determined not to slump into the habit of procrastination. Instead I want to make a habit of giving myself fully to each task, to doing what's necessary, then what's possible. Perhaps I will discover, with St. Francis, that that's how the impossible items also eventually get crossed off my to-do list.
Some gifts from the last two weeks...
727. A ticket to a ukulele concert—a gift from my sister.
728. A colour swatch of autumn.
729. Mt. Baker, saying goodbye to the day.
730. It's time for flannelette sheets.
731. Nature's order.
732. Popcorn bushes.
733. Cheery orange pumpkins everywhere.
734. A fascinating few hours spent listening to Joel Rosenberg.
735. My friend's artful corner.
736. A Sunday walk on the White Rock Promenade.
737. Pampas grass.
738. Autumn roses.
739. Sunday lunch at a favourite Greek eatery.
************
If you'd like to join me and many others collecting One Thousand Gifts, please do. Some members of this gratefulness community post their gifts on blogs, while others list them in private journals. Instructions on how to join are
here
.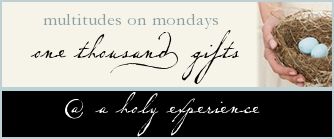 ***********