New-dressed trees line path
cool evening keeps dogwoods crisp
Shy girls bloom prom-wear
Over a couple of glorious days in the last little while the world has turned green. The walking path behind our house, lined with skeleton trees all winter, has transformed itself into a verdant avenue. This is only the first (#
951
) of many blessings this past week has held.
I downloaded Ann Voskamp's "
May Joy Dare
" and am using it as a blessing prompt.
May 1st - 3 gifts tasted:
952.
Coffee
953.
Greek lamb kebob.
954.
Tuxedo Truffle Cake—for my birthday.
May 2nd - 3 gifts flat:

955. Knife blade for cutting my breakfast banana.

956. My Kindle e-reader. A hundred or so books and it still retains its trim 7/8-inch girth.
957. This lovely garden stepping stone, a gift from my sis.
May 3rd - 3 gifts found in difficult people.
958.
They teach me to listen.
959.
They teach me the discipline of kindness.
960.
They give me practice in the soft answer.
May 4th - 3 gifts before 9:00 a.m.
961.
A hot shower.
962.
Reading the Bible, thinking about what it means, and praying.
963.
Blooming wisteria, seen on our walk (yes, we walk before 9:00 a.m.).
May 5th - Gifts in a sign, a smile, and a snack.
We happened to take a day trip to La Conner, Washington on Saturday. It was tailor-made for these gifts.
964.
These signs were seen in the Calico Cupboard and while window shopping.
964.
There were smiles all around as we heckled the pirate ships going by during the La Conner boat parade.
965.
Ice-cream cones were the snack gift, made all the more so when we ran into the honeymooners we had just seen at the boat parade and whom M. had photographed. They asked for another photo on the occasion of finding non-sugar ice-cream which meant diabetic he could have a rare ice-cream cone with ice-cream-loving she.
966.
Of course La Conner had more than three gifts. A big one was the beautiful Quilt and Textile Museum, housed in
Gaches Mansion
. Here is a sample of some of the beauties we were allowed to photograph. (The second floor with its
"Deep Spaces"
show was off limits to cameras. Pity, because it was an amazing display of creativity executed with fabric and thread, as were the quilts pictured.)
May 6th - 3 gifts found in Christ.
967.
A history. Yesterday our church celebrated its 75th Anniversary. Spoken memories and a video recalled highlights from the past 75 years.
968.
Worship. The service included songs from about five eras of worship music. There's nothing like music to refresh memories of one's relationship with Jesus.
969.
A celebration with food. In the spirit of David celebrating the return of the Ark to Jerusalem by sending everyone home with a gift of meat, bread and a cake of raisins, we went home with bag lunches that contained meat (ham), bread (wrapped around the meat) and a (cup)cake along with carrot sticks, dip and juice box.
970.
To round out this week's gifts, yesterday our own sweet son came over. He took us on a vicarious trip of New York with his photos, flattered me on my cookies, and left some sunshine for my garden.
**********

If you'd like to join me and many others collecting One Thousand Gifts, please do. Some members of this gratefulness community post their gifts on blogs, while others list them in private journals. Instructions on how to join are
here
.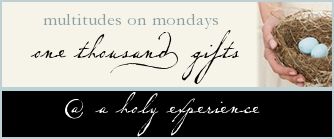 *************