"Success is the sum of small efforts, repeated day in and day out."
- Robert Collier
If you've been reading my blog regularly or from time to time, you will realize I've been doing some strange count-my-blessings thing here. It originated with Ann Voskamp who, after accepting the challenge of finding and naming 1000 gifts/blessings/things for which to be thankful, found herself focusing on a life of gratefulness. She
wrote a book about it
and in the community that has grown up around
her blog
and that book, invites participants to share blessings. That's what my posts have been a part of.
At the beginning of this year she threw out a new challenge. To enable people to reach 1000 blessings in one year she issued "The Joy Dare" which challenges folks to name three gifts a day.
She puts out a monthly prompt for these blessings. To help me reach my 1000 more quickly (and to discipline myself to look for something every day) I've been following
May's prompts
. And with that bit of help, TA-DA! I reach 1000 gifts this week, a journey I began on July 2010 with "
a dose of thankfulness
."
I will repeat the prompts from her May Joy Dare list, along with the blessings I found through it:
May 7th: Three gifts about my home:
971.
The upstairs laundry.
972.
A sunny kitchen.
973.
Two decks and a patio—with lots of through-breezes, sun and fresh air.
May 8th: Three gifts inside a closet:
974.
Our summer quilt, now out of the closet and on the bed.
975.
My gardening shoes, now also often out of the closet and on my feet.
976.
Summer T's and other light clothes for warming days.
May 9th. Three gifts in the dark:
977.
The fridge and the food it holds. It's always light when I ope the door and look inside, but most of the time the door is closed and it's dark.
978.
Piano notes—hammered out in the dark.
979.
God's secret plans. When I'm in the dark my faith is stretched.
May 10th A gift outside, one inside, one upside down:
980.
Outside—my hanging baskets from Costco.
981.
Inside—my quiet office. How much has been wrought here.
982.
Upside-down—my feelings as I anticipate the journey ahead for my book: happy to be done but a little dismayed by the publicity/marketing job ahead.
May 11th three gifts from parents:
983.
My mom's push to do things early, do things now.
984
. My mom's love of plants.
985.
The memory of Daddy talking to the farm animals.
May 12 - Three gifts held in hand:
986
. A bowl of roses and baby's breath (a wifey Mother's Day present from hubby).
987.
Ibuprofen.
988.
Washrags, for cleaning up the patio furniture on a summery day.
May 13 - Three gifts in my mother:
989.
Her creativity and how she encouraged us to be imaginative and resourceful.
990.
Her kindness—she was very aware of hurting people's feelings and didn't often do it.
991.
Her enthusiasm for her current project, showing us the attractiveness of a zest for life.
993.
On Mother's Day, I'm so grateful for my family, who honoured me in many ways. Thank you, my lovely peeps!
May 14th - A gift picked, put away, and put back.
994.
I
picked up
my white flower-painted enamel teapot, a daily pick-up I use all summer to water my patio baskets.
995.
I
put away
folded and fragrant laundry.
996.
At the end of the day I
put back
all my pens and pencils. They now rest in their respective mugs on my desk, waiting for tomorrow.
May 15th - Three gifts about me:
997.
I'm usually on time.
998.
I try to finish things
999.
I'm healthy, more or less—mostly more.
May 16th - Three gifts about God's Word:
1000.
It is the source of wisdom - James 3:13-16 gives a good definition.
1001.
It gives direction - Proverbs 3:5-6.
1002.
It gives us fodder for hopes and dreams - Zechariah 8:20-23.
I will stop at this point. But thankfulness doesn't end at 1000 (or 1002). I know that this project has sharpened my awareness of how much good fills my life. So, though I won't continue to list any more of last week's gifts here, I don't know if I'll be able to completely kick the habit of broadcasting such lists on my blog. I hope you'll indulge me if I share more of my gratefulnesses here from time to time.
And now for the last time:
If you'd like to join me and many others collecting One Thousand
Gifts, please do. Some members of this gratefulness community post
their gifts on blogs, while others list them in private journals.
Instructions on how to join are
here
.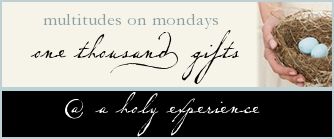 *************