"In our life there is a single colour, as on an artist's palette, which provides the meaning of life and art. It is the colour of love." Marc Chagall
I am late posting the update on my 1000 gifts this week because I've been so busy enjoying them! We got back yesterday from visiting the kids in the interior, but other things needed to be done. However, I'm finally back on track and ready to share the wonderful gifts of family from the week just past.
635. Finishing the baby afghan on time.
636.
The kids' basement reno. They did an amazing job!
637. Watching little people play.
638. Exploring "scawy" spiders and sharks on YouTube.
639.
Finger paints and a mommy who doesn't freak out when kids get a little dirty.
640. A wonderful dad who enjoys the beach as much as his sons do.
641. Anticipating No. 3 (due in just three weeks).
642.
An uneventful drive to and from...
643.
...with all safe and sound on the home front.
644.
Kitchen bliss making focaccia bread and muffins for my Volta friends.
645. Our own little beach—the Nicomekl River as we see it on our morning walks.
************
If you'd like to join me and many others collecting One Thousand Gifts, please do. Some members of this gratefulness community post their gifts on blogs, while others list them in private journals. Instructions on how to join are
here
.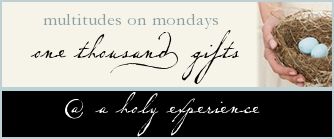 **********