"We do not remember days, we remember moments."
-
Cesare Pavese
Let me share with you a few memorable moments from this last week as I carry on naming 1000 gifts.
646.
I returned from Kamloops last Monday to find the two hibiscus in my very own garden in bloom.
647. Also in bloom, the mimosa that grows just outside the library...
648.
...which I visited to pick up
Bleak House
(the BBC dramatization for TV) which was finally in after I requested it several weeks ago. It's so good!
649.
My own warm bed under a roof (especially when we passed her on our walk one morning. Poor thing. And I wondered, all morning,
What is her story? How could I help?
).
650.
Short hair in the summer (one of these days I'll update my profile pic!).
651.
Corn on the cob.
652.
Bert's Bees stuff (I've probably ingested at least a cupful of Bert's Bees lip products in my lifetime).
653.
A Saturday lunch with family from out of town.
654. Hydrangeas. The camera doesn't do justice to the depth of their blue.
655.
Yesterday's inspiring sermon about my favourite book—the Bible.
656. Sunday lunch with son, then a walk along False Creek.
657
. A gloriously strange flower seen on our walk. It looked like a thistle blooming on top of an artichoke. (Indeed, it is an
artichoke in blossom
.)
658. This whimsical stair ornament captured during yesterday's travels.
************
If you'd like to join me and many others collecting One Thousand Gifts, please do. Some members of this gratefulness community post their gifts on blogs, while others list them in private journals. Instructions on how to join are
here
.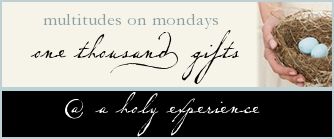 **********