"He who bends to himself a Joy
Doth the winged life destroy;
But he who kisses the Joy as it flies
Lives in Eternity's sunrise" — William Blake
We have had some joy-filled weeks — and flying was part of them. A vacation trip and a lot of little blessings along the way have been gifts I've enjoyed during the last two weeks.
606.
On July 29th flew from B.C. to Saskatchewan for a family reunion of hubby's side of the family. We got back last Wednesday. I't's always a gift to have an enjoyable, safe trip, and then arrive home to find everything intact and just as we left it.
607.
The wonderful family I belong to, courtesy hubby.
608.
Aunt Helen's home-baked cinnamon buns for breakfast, pies for dessert.
609. Old things like this barn...
610. hubby's boyhood farm home...
611. vintage lino...
612. and potato-printed (?) floors.
613.
Earrings that match my birthday necklace, found at the Bay while I was waiting to get a new watch battery (all thanks to the watch repair person at Sears who would not be back till 2:00, so we went somewhere else).
614.
Homemade plum wine - oh my!
615. Caragana pods. They bring back so many childhood memories -- like how they were the salad, main course and dessert of many a playhouse meal.
616. A silk tree (clematis).
617.
My hanging baskets survived, even thrived during my five days away thanks to my watering improvisation. Before I left, I watered them well, then set them in the shade in containers with a couple of inches of water.
618.
How free I feel after a few days away from my internet tether. (I'm going to try and prolong that freedom.)
619. A room freshener straight from my garden.
620. A summer Sunday walk at Crescent Beach.
621.
Cool summer evenings.
622.
Blueberries. They are plump and tasty this year. We bought 25 lbs. yesterday. What do you think I'll be doing today?
************
If you'd like to join me and many others collecting One Thousand Gifts, please do. Some members of this gratefulness community post their gifts on blogs, while others list them in private journals. Instructions on how to join are
here
.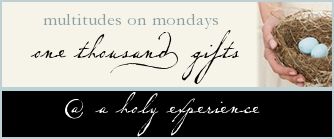 **********