"If you don't know where you're going, you will wind up somewhere else." Yogi Berra
We're already well into the double digits of August. How does this happen? In the little corner where I live it's been a week of slow but steady productivity. I'm making notes for
the class I'll be teaching this fall at Women By Design
, eating lots of blueberries and brooding on ways I can wrestle my bloated photo collection (the bane of digital photography) into some sort of order. I worked at that most of Saturday and I think I have a system.
I'm also thinking of sitting down and making some goals for the upcoming fall season. I need to know where I'm heading to give my life some starch. I'll probably be referring to Michael Hyatt's excellent free ebook
Creating Your Personal Life
Plan for guidance and some templates.
Here are some gifts that I enjoyed this week:
623. Summer colour against white stucco.
624.
Discovering the "Next" button on my Firefox toolbar (whisks me from one blog to the next in my Google subscriptions).
625. Two little birds who know a good place when they find one.
626. The way our city decorates its sidewalk kiosks.
627.
Little mysteries to ponder, like why is one of these power-pole anchor bolts corroded and cracked? (It looks a lot like the pole of a deteriorating car battery.)
628. Blue and green.
629. The grey lace of Dusty Miller.
630. The oversized leaves of these plants in a city garden.
631. Peter Rabbit and his sister playing tag on the path in front of us as we walked.
632.
Feasting on blueberries.
633.
Time to spend archiving and transferring my photo collection (8,000+ photos is waaaay too many to be storing in iPhoto).
634.
Manna every morning
— without fail something. Thank You Lord!
************
If you'd like to join me and many others collecting One Thousand Gifts, please do. Some members of this gratefulness community post their gifts on blogs, while others list them in private journals. Instructions on how to join are
here
.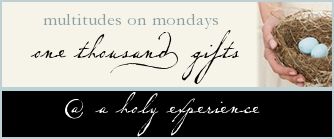 **********