"The key to everything is patience. You get the chicken by hatching the egg, not by smashing it." - Arnold H. Glasow
This week has been characterized by waiting. Daughter's due date was a week ago. And with that "gift" I carry on with my count-up to 1000 gifts:
684.
The faith-stretching experience of waiting...
(P.S. The baby arrived this morning - Monday- at 8:a.m. after about 7.5 hours of labour. Praise the Lord for a beautiful baby girl - our first granddaughter!:)
685. Beautiful foretaste of things to come.
687.
B.C. Children's Hospital in Vancouver. We had occasion to visit someone there last week. What a sad / happy place with the nicest nurses.
Wired to the trellis sections of the dividers on an outside patio, are these wood cutouts—little pastel rays of hopefulness and reasons to keep fighting.
688. Fall roses.
689.
Green hydrangeas. (In Surrey I had my own hydrangea bush. It grew purple/blue/wine flowers. I used to dry them and display them solo or in arrangements with other everlastings. One year I lucked out when I found green hydrangeas at the home of my daughter's friend. Her mom didn't do anything with them so she gave me armloads!)
690.
Hubby's opportunity to go to Ottawa with a prayer team, stay at the National House of Prayer, and visit parliament (new session
starts today
).
691.
Caraganas
.
692. Nature's designs.
693. A golden-yellow freebie (picked from a basket marked "Free - Help Yourself" just outside the gate of one of the houses on our walk).
694.
The rains have returned and it feels kind of good. Maybe one does develop a certain affection for dull weather over time. Last night's rain chatter on the roof and chortle through the drain pipes was a happy sound.
695.
The knowledge that I have a wise God who is lovingly
in charge of directing my steps
.
696. Busy critters.
************
If you'd like to join me and many others collecting One Thousand Gifts, please do. Some members of this gratefulness community post their gifts on blogs, while others list them in private journals. Instructions on how to join are
here
.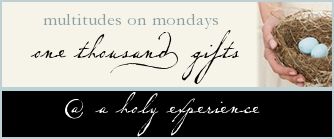 **********